Hi guys, it's been a while since my last post. I've been writing a "life lately" blog but it got too personal so I was having second thoughts of posting it. I've been writing that update blog for a week now but I still don't know how to end it. There's just too many stuff going on in my head that I needed to let out. I'm not in the best place right now so I don't know if it's a good idea to publish something so emotional. Anyway, it's September already. Four more months left until we get to move on to a new year. How were the last 8 months of your year? I hope you had a blast. And I hope you had a better time than me. I really wanted to update my blog so here's a filler post instead. I've been doing a lot of reading in the past few weeks to make use of my leisure time. So far, I've finished 4 books in the last month. Here are my other to-read books for this year.
War Storm by Victoria Aveyard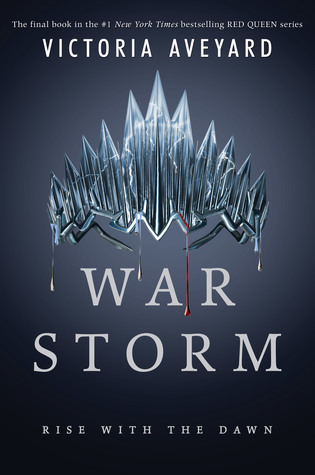 Victory comes at a price.
Mare Barrow learned this all too well when Cal's betrayal nearly destroyed her. Now determined to protect her heart—and secure freedom for Reds and newbloods like her—Mare resolves to overthrow the kingdom of Norta once and for all… starting with the crown on Maven's head.
But no battle is won alone, and before the Reds may rise as one, Mare must side with the boy who broke her heart in order to defeat the boy who almost broke her. Cal's powerful Silver allies, alongside Mare and the Scarlet Guard, prove a formidable force. But Maven is driven by an obsession so deep, he will stop at nothing to have Mare as his own again, even if it means demolishing everything—and everyone—in his path.
War is coming, and all Mare has fought for hangs in the balance. Will victory be enough to topple the Silver kingdoms? Or will the little lightning girl be forever silenced?
In the epic conclusion to Victoria Aveyard's stunning series, Mare must embrace her fate and summon all her power… for all will be tested, but not all will survive.
I am currently 76 pages in and I'm loving it so far. I'm excited because it also includes the POV of Iris Cygnet, the Lakelander princess who married Maven. I'm excited on how the story will unfold and what will happen to Cal, Maven, Mare and the other newbloods. I'm just taking it slow, though, reading it whenever I have free time, hehe.
Crazy Rich Asians by Kevin Kwan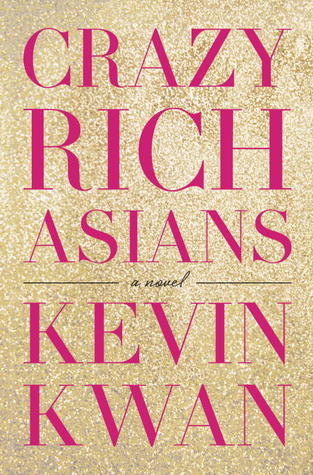 Crazy Rich Asians
is the outrageously funny debut novel about three super-rich, pedigreed Chinese families and the gossip, backbiting, and scheming that occurs when the heir to one of the most massive fortunes in Asia brings home his ABC (American-born Chinese) girlfriend to the wedding of the season.
When Rachel Chu agrees to spend the summer in Singapore with her boyfriend, Nicholas Young, she envisions a humble family home, long drives to explore the island, and quality time with the man she might one day marry. What she doesn't know is that Nick's family home happens to look like a palace, that she'll ride in more private planes than cars, and that with one of Asia's most eligible bachelors on her arm, Rachel might as well have a target on her back. Initiated into a world of dynastic splendor beyond imagination, Rachel meets Astrid, the It Girl of Singapore society; Eddie, whose family practically lives in the pages of the Hong Kong socialite magazines; and Eleanor, Nick's formidable mother, a woman who has very strong feelings about who her son should--and should not--marry. Uproarious, addictive, and filled with jaw-dropping opulence,
Crazy Rich Asians
is an insider's look at the Asian JetSet; a perfect depiction of the clash between old money and new money; between Overseas Chinese and Mainland Chinese; and a fabulous novel about what it means to be young, in love, and gloriously,
crazily
rich.
I started this one before I picked up War Storm and because I wanted to read War Storm first, I put this one on hold. I'll be picking it up again when I finish my current read, hehe. I haven't seen the movie yet but I'm excited to watch it! I've heard so many good reviews about it and given that the cast is all Asian, I'm sold! I just wish I have someone to watch it with. 😅
Tower of Dawn by Sarah J. Maas
Chaol Westfall has always defined himself by his unwavering loyalty, his strength, and his position as the Captain of the Guard. But all of that has changed since the glass castle shattered, since his men were slaughtered, since the King of Adarlan spared him from a killing blow, but left his body broken.
His only shot at recovery lies with the legendary healers of the Torre Cesme in Antica—the stronghold of the southern continent's mighty empire. And with war looming over Dorian and Aelin back home, their survival might lie with Chaol and Nesryn convincing its rulers to ally with them.
But what they discover in Antica will change them both—and be more vital to saving Erilea than they could have imagined.
Girl, I know. I'm late. I'm a Maas Trash but I haven't read TOD yet. No worries, I'm rereading the whole series so when I get to finish Empire of Storm, I'm going to read TOD. Kingdom of Ash, the last book, is coming so I better quicken my pace!
Renegades by Marissa Meyer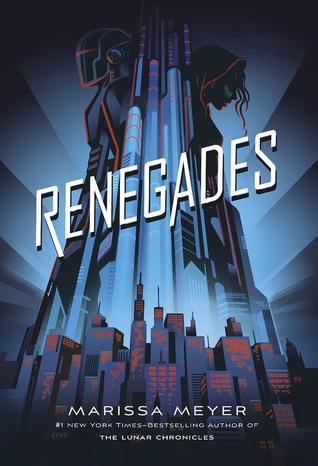 Secret Identities. Extraordinary Powers. She wants vengeance. He wants justice.
The Renegades are a syndicate of prodigies — humans with extraordinary abilities — who emerged from the ruins of a crumbled society and established peace and order where chaos reigned. As champions of justice, they remain a symbol of hope and courage to everyone... except the villains they once overthrew.
Nova has a reason to hate the Renegades, and she is on a mission for vengeance. As she gets closer to her target, she meets Adrian, a Renegade boy who believes in justice — and in Nova. But Nova's allegiance is to a villain who has the power to end them both.
I love Marissa Meyer. The Lunar Chronicles is one of my favorite series and when I saw this at Fully Booked, I couldn't resist! I am so excited to start a new series by her but I'm not in a hurry to finish this book because book 2 has not yet been released. I'd take my time because I don't want to wait too long for the second book. But this is definitely in my to-read books because I have a feeling this is going to be a great read!
Have you read any of these books? What are the books you're itching to read this year? I've been dying to just bury my nose in books but, alas, I have to work, too, to pay the bills. #adulting 😅😓
How are you guys? I missed talking or should I say writing here in my blog. I don't think I'd be updating regularly, bear with me, dear loyal readers. But don't worry, this blog isn't going anywhere because I've renewed my domain for another year. I'll be updating once in a while if I feel like it. So yeah, that's it. Toodles for now. 😘